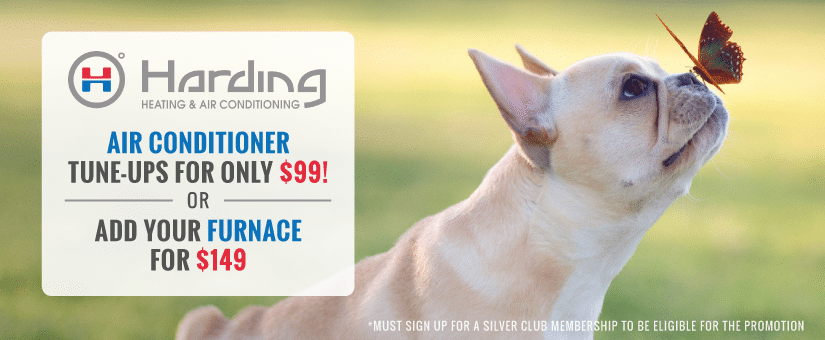 On April 10, 2017
0 Comments
air conditioner, Air Conditioner Tune Ups, Air Conditioning cleaning, Cooling, Maintenance Plan, Ottawa, Tune-Up
Spring is here and it's time to start thinking about getting your air conditioner ready for the scorching hot season ahead! Yearly air conditioning cleaning, inspection and maintenance is extremely important to keep your cooling system running safely and efficiently all season long. There's no better way to ensure your cooling system is ready for the summer season than to enroll in our Silver Club Membership!
For a limited time, Team Harding is pleased to present our Silver Club Membership for ONLY $99! In addition, when you sign up, you'll also receive a FREE air conditioning cleaning!
Plus, Team Harding is also offering our SILVER COMBO Club Membership plan for ONLY $149! Combo club memberships offer worry-free maintenance and peace of mind for BOTH your furnace and air conditioning systems.
Maintenance plans are an important investment for homeowners. Too many people neglect servicing their cooling system annually and then end up on the hook for expensive repair bills when their air conditioner breaks down. With our membership program, a yearly precision tune-up and safety inspection are included, so you never have to worry about remembering your annual cooling maintenance and service.
In addition to the yearly tune-up and safety inspection, a Team Harding Silver Club Membership also includes:
Guaranteed Appointments Within 48 Hours
We always place your air conditioning repair needs at the highest priority possible to ensure we get to your home as soon as we can. Even during the hottest days of the summer, rest easy knowing that you have a guaranteed appointment!
25% Discount on Repairs
If there's ever any problem with your cooling system and you require any type of repair service, we'll automatically give you a 25% discount—more money in your pocket!
Diagnostic Fee of only $39.95
Never be subjected to high or uncertain diagnostic fees if you need air conditioning service. Our low diagnostic fee will keep any home visit reasonable and manageable.
Free Air Conditioning Cleaning
A perk of our Silver Club Membership is free air conditioning cleaning to ensure that you start your summer season clean and healthy! Cleaning your cooling system is important to maintain high air quality standards and to increase your unit's efficiency.
For 22 years, Harding Heating & Air Conditioning has provided reliable HVAC installation and service to Ottawa and the surrounding areas. We always work hard to provide you the best products that fit your needs AND budget.
Sign up today for an Exclusive Team
Harding Club Membership!