Harding Heating & Air Conditioning Guarantees
At Harding we believe our clients should be 100% satisfied with our products and services. We have a number of guarantees designed to ensure complete satisfaction.
100% Satisfaction Guarantee
Service
If you are not 100% satisfied with the service we have provided, you don't pay until you are.
Repair
We guarantee that equipment repairs are done right the first time or the repair is free. If a repair fails during the season, we will repair it again at absolutely no cost to you.
No-Lemon Guarantee
If the compressor in your air conditioner fails twice in the first 5 years, we will install a completely new outdoor unit. If the heat exchanger in your furnace fails in the first 10 years, we will install a new furnace. Proper registration is required.
Property Protection Guarantee
All property, such as lawns, shrubbery, carpeting, floors, walls, furniture and door frames are protected. Damaged property will be replaced or repaired. Protective shoe covers and hall runners will be used on all work and traffic areas.
Service Guarantee
We are available to you 24 hours a day, 7 days a week. With our exclusive Platinum membership, if service is required, we guarantee a same day appointment by a highly qualified and courteous technician.
Worry Free Guarantee
We offer up to 12-years parts and labour warranty on all our furnaces and air conditioners maintained to manufacturer standards to ensure your continuing home comfort. We also offer specialized warranties which include:
Lifetime Compressor Limited Warranty
Lifetime Heat Exchanger Limited Warranty
Up to 12 years unit replacement
Installation Guarantee
We guarantee that your heating and/or cooling system will be installed as scheduled or we will give you a free 5-year maintenance package.
The Daikin Warranty
In combination with our top-quality manufacturers, Team Harding is able to offer industry-leading 12-Year Parts and Labour Limited Warranties.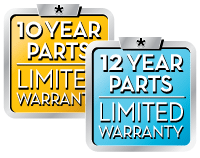 Daikin's 12-Year Parts Limited Warranty leads the industry in length. When your system gets in the range of 8-12 years old, repairs are fair more common and can be very expensive, so the extra coverage can make a big difference. Combine that with up to 12 years of labour coverage from Team Harding and you'll never have to worry about your system breaking down.
Our warranties can also include Lifetime Limited Warranties on heat exchangers and compressors, two parts that aren't covered in most warranties.