Emergency AC Repair Ottawa
Count on Team Harding for Emergency AC Repair in Ottawa
Emergency AC Repair Ottawa–When you run into issues with your air conditioning system, especially during the heat of the summer, you need an efficient repair service you can count on. That's where Team Harding comes in. We offer emergency AC repair services in Ottawa until 8pm to ensure you don't have to suffer through a sweltering night.
Our experienced and certified technicians are equipped to quickly diagnose and fix any issues with your AC system. With our prompt and reliable service, you can count on Team Harding to provide you with the comfort and peace of mind you need.
Book Emergency AC Repair Now
For emergency AC repair please call (613) 831-2257 or fill out the form below and one of our home comfort advisors will be in touch with you shortly.
Get Priority Emergency AC Repair with a Harding Club Membership
When your AC breaks down unexpectedly, you want to know that it'll be up and running as quickly as possible, especially if someone in your home relies on it. That's why we offer the Harding Club Membership. With a Club Membership, you receive priority service over Ottawa homeowners who don't have a membership. That means we prioritize your emergency AC repair needs.
With this membership, you receive priority service for HVAC emergencies, including AC repair. You'll be placed at the top of our service list, ensuring that you receive the fastest response time possible. Plus, you receive a discount on all repairs and replacements, as well as annual maintenance services to keep your HVAC system running efficiently.
A Harding Club Membership gives you the peace of mind of knowing that your emergency AC repair needs are our top priority. Contact us today to learn more about our membership options and how they can benefit you.
How to Identify Common AC Problems
To keep your AC system running smoothly during the hot summer months, it's important to know how to identify common AC problems. Some of the most common issues that homeowners may encounter include:
Malfunctioning thermostat
Refrigerant leak
Frozen evaporator coil
Dirty filters
A malfunctioning thermostat can force the AC to turn on and off irregularly or not turn on at all. Dirty filters can restrict airflow, making the AC to work harder than it should, and reduce the indoor air quality. A refrigerant leak can cause the AC to blow warm air or not blow air at all. A frozen evaporator coil can lead to reduced airflow and decreased cooling capacity.
To identify these problems, homeowners should pay attention to signs such as:
Warm air blowing from the vents
Reduced airflow
Strange noises or smells
Increased humidity levels
It's important to address these issues promptly to prevent further damage to your air conditioning system. If you live in Ottawa and notice any of these signs, call Team Harding right away for emergency AC repair.
To help prevent problems and the need for emergency AC repair, homeowners can perform simple maintenance tasks like:
Cleaning/changing the air filter regularly
Scheduling annual maintenance checks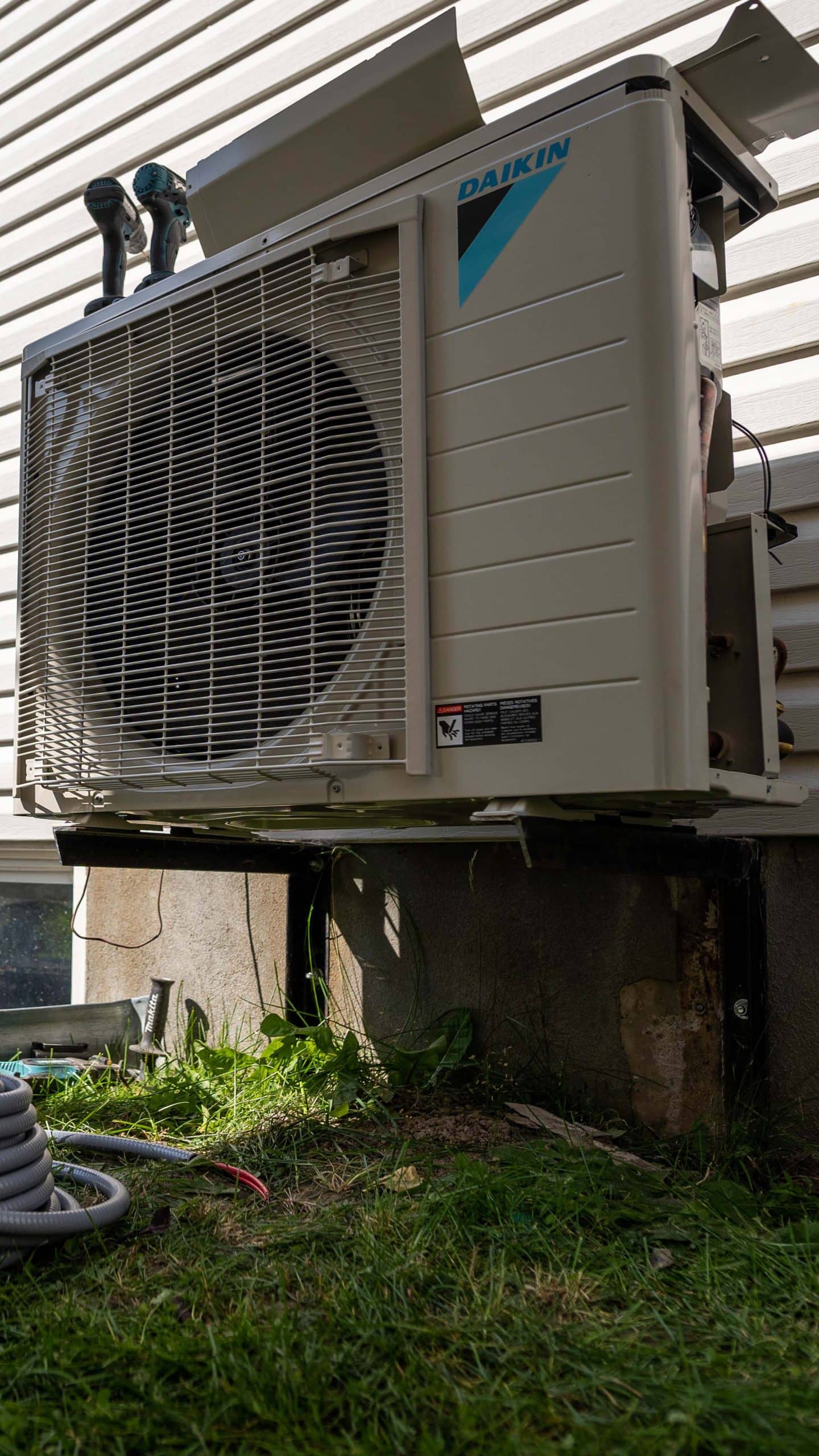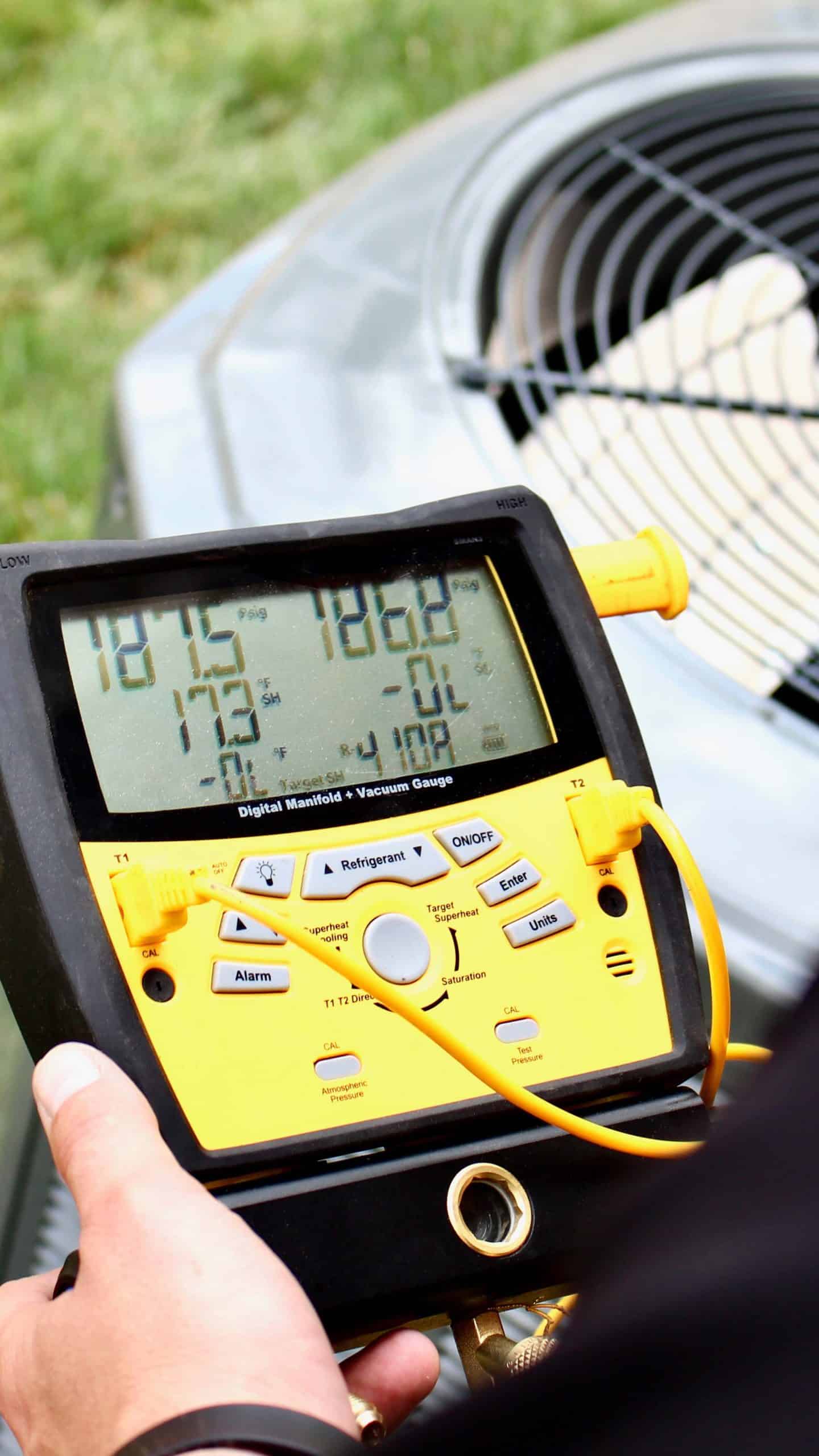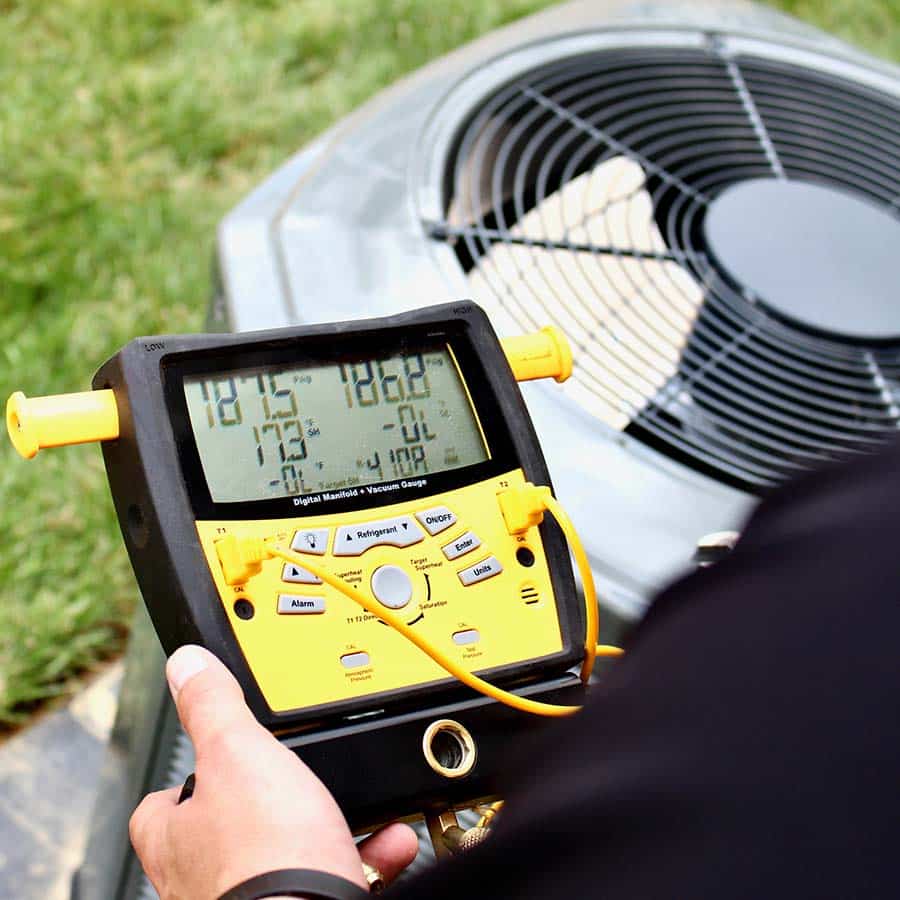 Issues with Older Air Conditioners
While you might think your AC still has lots of life left in it, it could be time for an upgrade or replacement. If you have an older air conditioner, you may experience some issues that are specific to aging systems.
Here are some common problems you may encounter:
Musty Smells
Older air conditioners can develop a musty smell due to mold and mildew growth inside the unit. This can be caused by moisture buildup or dirty air filters.
Reduced Efficiency
Over time, the parts in an AC system can wear down and become less efficient. This can result in higher energy bills and reduced cooling capacity.
Frequent Breakdowns
As an air conditioner ages, it may require more frequent repairs to keep it running smoothly. This can be due to worn-out parts, refrigerant leaks, or other issues. Either way, it's going to cost you.
R-22 Refrigerant
If your air conditioner uses R-22 refrigerant, you may run into problems as this refrigerant is being phased out due to its harmful effects on the environment. Repairs for R-22 refrigerant systems may become increasingly expensive, and it may be more cost-effective to replace the unit with a newer, more environmentally friendly model.
If you're experiencing any of these issues with your older air conditioner, it may be time to consider replacing it with a newer, more efficient model. A Team Harding HVAC technician can assess your system and provide recommendations for the best course of action.
Why Does My Air Conditioner Smell Musty?
If your air conditioner is emitting a musty smell, there are several potential causes:
Mold and mildew growth – Air conditioners create a cool, damp environment that can be a breeding ground for mold and mildew. These fungi can grow on the unit's evaporator coils, drain pans, and air filters. This can cause a musty odor.
Clogged air filters – If your air filters are clogged with dust and debris, they can trap moisture and lead to mold growth.
Dirty condensate drain lines – The condensate drain lines remove excess moisture from your AC unit, but if they become clogged with dirt or algae, they can produce a musty smell.
Improper unit installation – If your air conditioner was not installed properly, it can create moisture buildup and encourage mold growth.
Poor ventilation – If your home has poor ventilation, it can trap moisture inside and worsen mold and mildew growth.
If your AC has a musty smell, you should first replace any clogged air filters. If the smell persists, call Team Harding to have one of our HVAC technicians clean your AC's condensate drain lines or perform a more thorough cleaning of the unit.
In some cases, you may need to consider replacing your air conditioner if it's old or was not installed properly.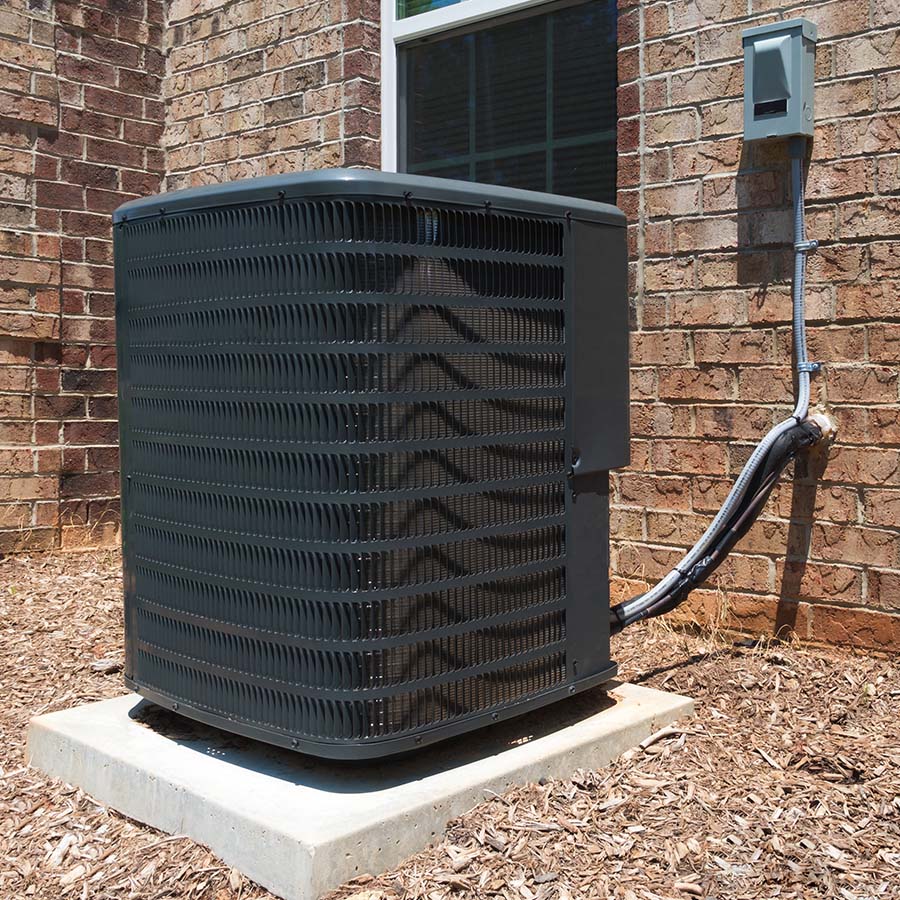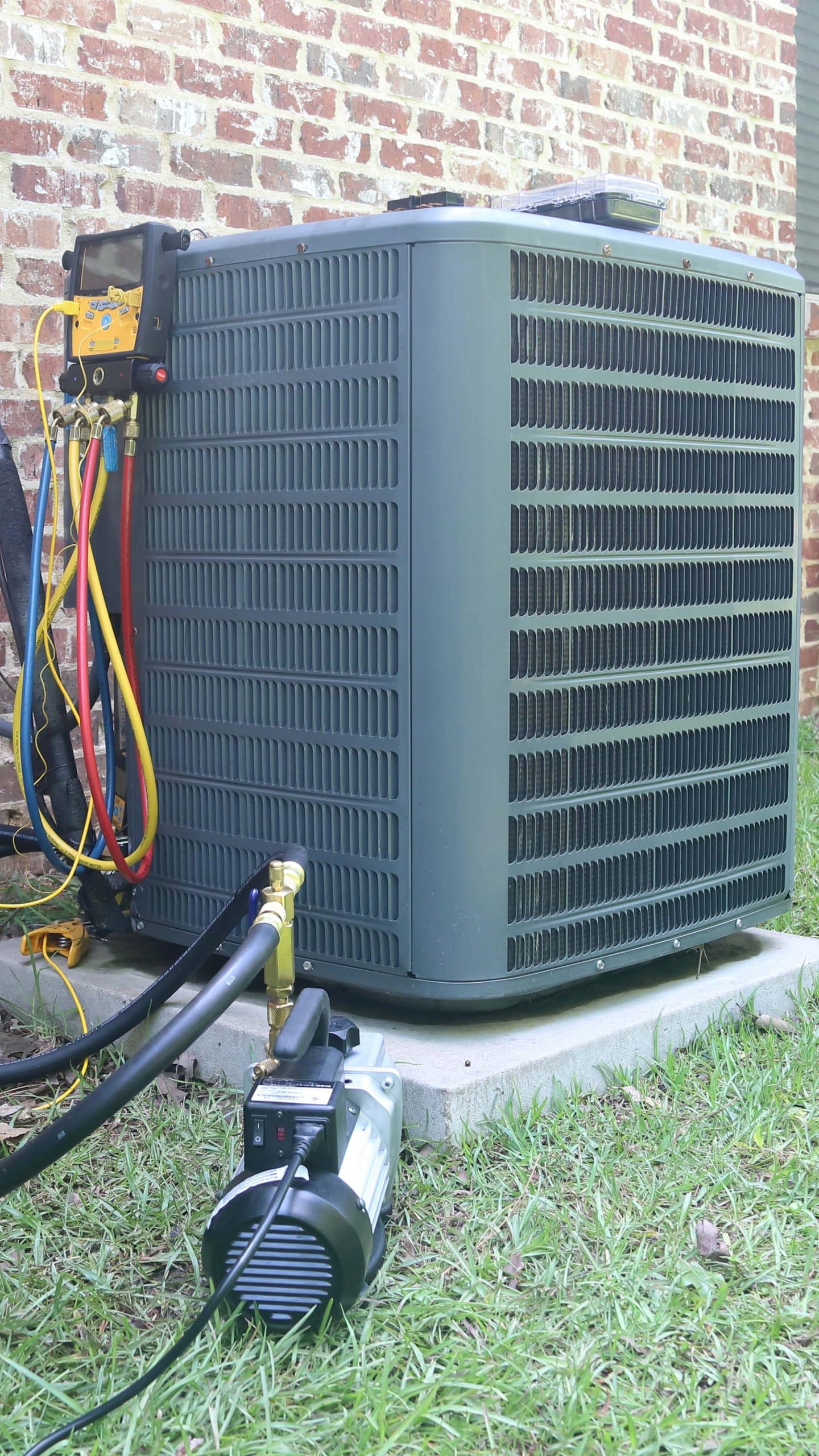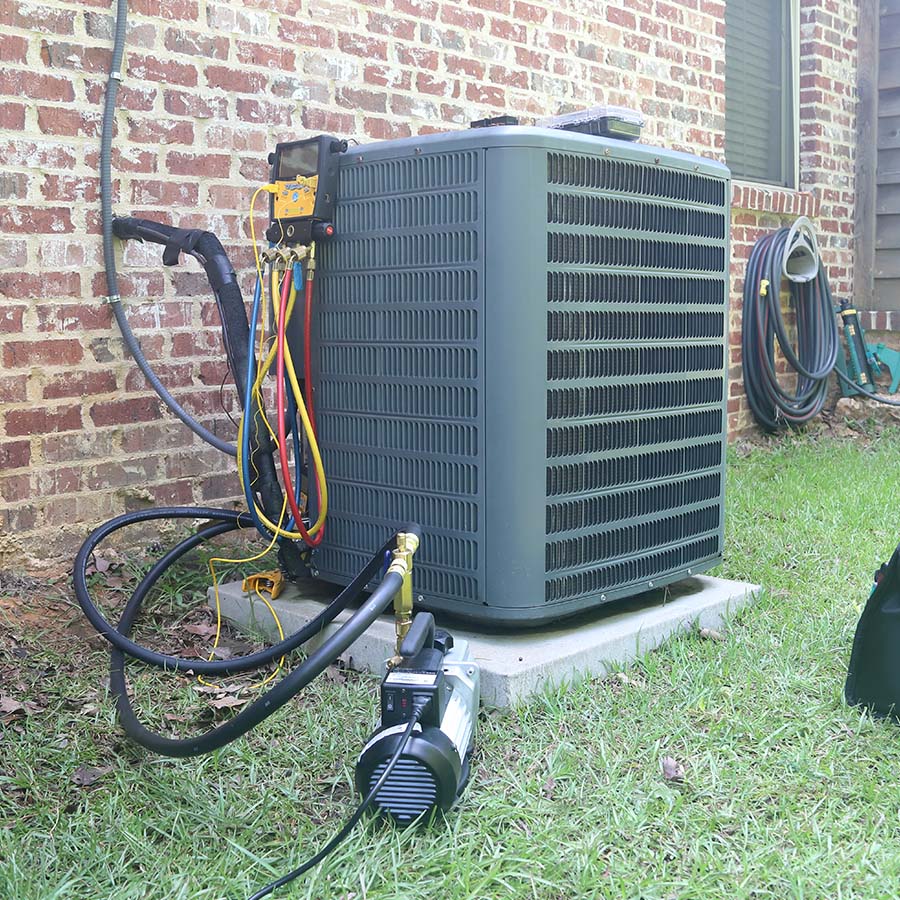 When Is It Time to Replace Your AC Unit?
Not sure if it's time to replace your AC unit or not? We'll help you decide whether you should simply fix your air conditioner or get a new one.
Here are some key indicators that it's time to replace your AC unit:
Age
Air conditioners typically last 10-15 years. If your unit is approaching, or is beyond this age range, it may be time to replace it.
More Frequent Breakdowns
If you find yourself calling Team Harding for repairs all the time, it's probably more cost-effective to replace your AC unit rather than continually repairing it.
Rising Energy Bills
Are your utility bills higher than normal? As air conditioners age, they become less efficient and require more energy to operate. If you've noticed a steady increase in your energy bills, it could be due to an inefficient AC unit in need of replacement.
Uneven Cooling
If some rooms in your home are consistently warmer than others, it may be a sign that your AC unit is no longer able to effectively cool your entire home.
Excessive Noise
If your AC unit is making loud or unusual noises, it may be an indication of internal problems that could be costly to repair. It might be time to get a new unit.
R-22 Refrigerant
If your AC unit still uses R-22 refrigerant, also known as Freon, it's definitely time to replace it. R-22 is being phased out due to its harmful impact on the environment, and its production has been banned since 2020.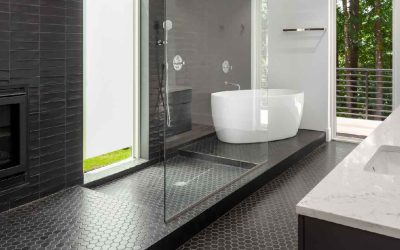 Fireplaces add a level of comfort to a home that nothing else can achieve. But their placement...
read more