Your heating and cooling systems' warranties are extremely important, but often times homeowners don't actually know the specifics of their warranties. Below, we have laid out everything you need to know to best understand each system's warranty, so you always know what is covered in case you have a breakdown or require a repair!
Remember, you should always consult the manufacturer of your equipment to confirm your warranty! The technician who installs your system should always provide a homeowner's manual which will confirm your warranty, and help you understand it better.
What You Need Before Contacting Manufacturers About Warranty
The brand and/or manufacturer of the home comfort system
The serial number (located on the inside of a furnace, or close to the service valves on an air conditioner)
Any other relevant information, such as; the model number of the equipment, installation date, and age of your home
Understand the Terms of Your Warranty
Every manufacturer has different terms for their warranties – the main difference being the length of time a warranty is valid. Some furnaces have warranties up to 12 years! Make sure that when shopping for a new home comfort system you take into consideration the length of the warranty offered by the manufacturer.
Most HVAC warranties do have the following in common:
Most manufacturer warranties cover parts, but they usually only cover large system components. Things like air filters and fan belts are not usually covered.
Extended warranties often require registration and usually have to be completed within 60 days of installation. Many people neglect to register their units and forfeit the right to have future repairs covered!
The company that does the installation offers their own service or labour installation warranty – manufacturers usually do NOT provide a bundled parts and labour warranty.
Another important consideration is that there are conditions and restrictions on HVAC warranties. Keep these in mind as you make decisions about your HVAC units:
Most warranties are only valid if a certified HVAC technician did the installation. This also applies to subsequent repairs.
Records and receipts might be required to validate the warranty. This is especially true when it comes to repairs and maintenance. Always hire professionals and make sure to keep copies of everything related to the unit to ensure that HVAC warranties remain valid.
Annual inspection and maintenance is usually a requirement to keep a parts warranty valid!
Warranties Do Not Cover Negligence or Misuse of Equipment
Manufacturers can't very well guarantee the performance of neglected equipment. After all, no matter how high-end your heating and cooling system is, it's a machine and requires maintenance and periodic repairs to remain in good working condition.
To continue receiving the benefits of the HVAC system's warranty, most manufacturers will require you schedule a yearly inspection. If the system is neglected and does not receive proper maintenance, the warranty could be void. For example, if the filters remain clogged for years at a time (and we do see this happen from time to time) or if the furnace runs short of propane, the chances are likely that the warranty will be void.
What is a Maintenance Plan?
Many HVAC companies offer a maintenance plan for furnaces and air conditioners. Also called protection plans or club memberships, these services are offered to homeowners to offset costs associated with upkeep and repairs to home comfort systems.
Maintenance Plan Benefits
Your furnace and air conditioner require yearly tune-up and inspection to help ensure they're operating safely and efficiently. These appointments are also required to keep manufacturer warranties valid. In addition, you might require repair or service throughout the year. With a protection plan like Team Harding's Club Membership—yearly inspections, discounts on repairs and replacements are all included.
Manufacturer Warranty vs. Maintenance Plan
Sometimes, homeowners mistakenly believe that a manufacturer warranty will protect them from additional costs associated with furnace maintenance. Manufacturer warranties only cover the cost of a replacement part—not the labour to install them. Manufacturer warranties also do not include regular maintenance appointments that are required to keep warranties valid. Only a maintenance plan provides these additional services.
To help ensure that your furnace and air conditioner operate safely and efficiently—and to help prevent expensive repair bills—invest in a protection plan.
Our Club Memberships have three levels: Silver, Gold and Platinum. Join the Platinum Club Membership to get FREE service on your system, FREE diagnostics, FREE parts and labour (no exclusions) and we'll even give you up to 100% of your unused credit balance—for up to three years—to apply to a new heating or cooling system!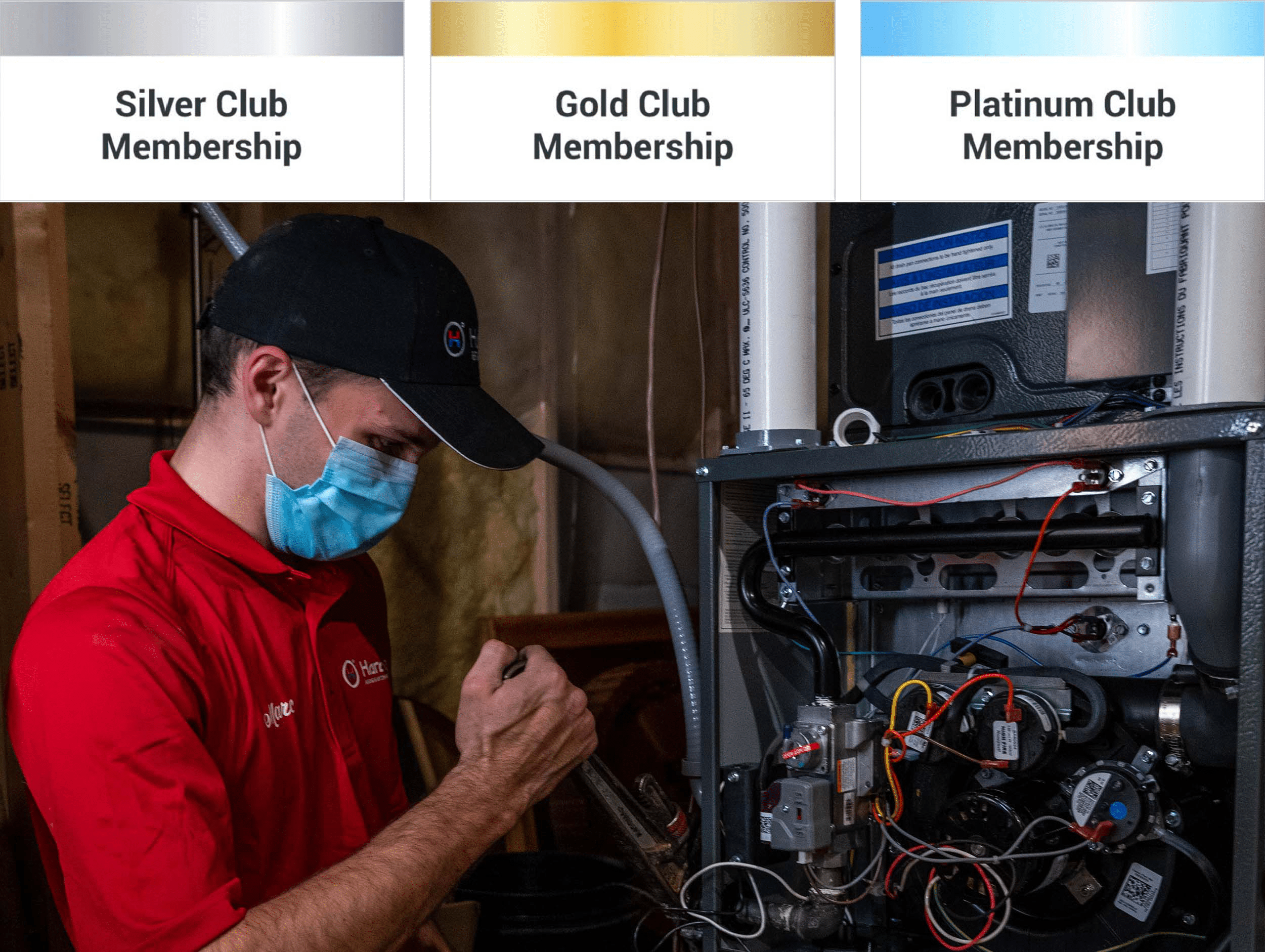 For equipment that is purchased through the builder
| | | | | | |
| --- | --- | --- | --- | --- | --- |
| | | 10 Year Parts (only if registered within 60 days of occupancy) | Lifetime Heat Exchanger (furnaces only – only if registered within 60 days of occupancy) | 2 Year Tarion – Full Parts and Labour* | |
| |  ✓ |  ✓ |  ✓ |  ✓ |  – |
| |  ✓ |  ✓ | |  – |  ✓ |
| | ✓ | | |  ✓ | – |
| |  ✓ | | |  ✓ | – |
| |  ✓ | | | – |  ✓ |
*Some homes use an "Air Handler" to distribute heating. These units typically have a 1-5 year parts warranty, depending on the brand. *if builder is registered for Tarion, if applicable *Depending on manufacturer
For any equipment not installed through the builder
| | | | | | |
| --- | --- | --- | --- | --- | --- |
| | | 10 Year Parts (only if registered at time of purchase) | Lifetime Heat Exchanger (furnaces only – if registered at time of purchase) | 6 Year Parts & Tank Warranty (Tank Water Heaters only) | 15 Year Heat Exchanger Warranty (Tankless Water Heater only) |
| |  ✓ | ✓ |  ✓ | | |
| |  ✓ |  ✓ | | | |
| |  ✓ | | | | |
| |  ✓ | | | | |
| | ✓ | | | | |
| | | | |  ✓ | |
| | | | | | ✓ |
*Some homes use an "Air Handler" to distribute heating. These units typically have a 1-5 year parts warranty, depending on the brand. *Depending on manufacturer
These warranties are for labour coverage and typically would have had to be purchased within one year of installation.
| | | | | |
| --- | --- | --- | --- | --- |
| | 5 Year Labour – Non-Transferable | 5 Year Labour – Transferable | 10 Year Labour – Non- Transferable | 10 Year Labour – Transferable |
| | ✓ |  ✓ |  ✓ |  ✓ |
| | ✓ |  ✓ |  ✓ |  ✓ |
| | | | |
| --- | --- | --- | --- |
| | | | If Purchased Within Year 1 |
| | | | |
| | | | |
| 6 or 12 Year Unit Replacement (Depending On Model) | | | |
| | | | |
| | | | |
| | | | |
WARRANTY MAY BE VOIDED IF:
ANNUAL MAINTENANCE IS NOT COMPLETED*
ANY ALTERATIONS, DELETIONS, ADDITIONS, OR MISUSE OF THE EQUIPMENT**
*Depending on manufacturer
| | | | |
| --- | --- | --- | --- |
| | | | If Purchased Within Year 1 |
| | | | |
| | | | |
| | | | |
| | | | |
| | | | |
| | | | |
*Depending on manufacturer