Fireplace Service, Installation, Repair & Maintenance
During the winter, your fireplace is the heart of your home. Many Canadian families spend magical moments in front of the fireplace keeping warm, visiting with loved ones, and making memories. For nearly 30 years, residents of Ottawa have trusted Harding The Fireplace to install, maintain, and repair their fireplaces. They come to us for quality service and professional advice. When Ottawa residents need fireplace assistance, service, or care, they contact our knowledgeable team of fireplace technicians.
Fireplace Maintenance
Invest in annual maintenance with the experts at Team Harding to keep your fireplace working well and looking great. Scheduling regular fireplace maintenance ensures that your fireplace works properly, safely, and without issue. Team Harding provides peace of mind by keeping your fireplace burning safely and at its best.
Fireplace Repair
Even the highest quality fireplaces can have issues and break down as they age. If you fireplace isn't working properly or is in need of repair, our team of expert technicians will diagnose and repair any issues that may arise. The Harding Team will guide you on how to take care of your fireplace to prevent future breakdowns and damage.
Fireplace Installation
Get your new fireplace installed perfectly the first time with Team Harding. Our team of professional technicians provides top-quality installation so your fireplace performs at its best. Enjoy your home even more in the winter with a properly-installed, high-performing fireplace.
Visit Our Showroom
Our staff will work with you to select the right product for your needs.
Whether you're looking for traditional woodstoves of the latest technology or gas or electric fireplaces, our professional and dedicated staff will guide you through the process from selection to installation.
SHOWROOM CONSULTATION
At our showroom, our consultants will spend as much time as necessary listening to you and asking the right questions to guide you towards finding the best fireplace for your lifestyle.
IN-HOME CONSULTATION
Once you've chosen a fireplace, we'll schedule a free in-home consultation. Our consultant will perform an assessment of your space to correctly size your fireplace. We will advise you on the options for cabinetry, mantle pieces, and tiles to create a beautiful space in your home.
CUSTOM DESIGN WORK
We are fireplace specialists. We put together the entire package. We do custom work, including cabinetry and dry walling, to create the perfect fireplace space that adds to your home decor.
INSTALLATION
On your appointment date, our installation crew will come to your home and install your fireplace. They will go over all the elements of the fireplace and ensure you understand how it all works.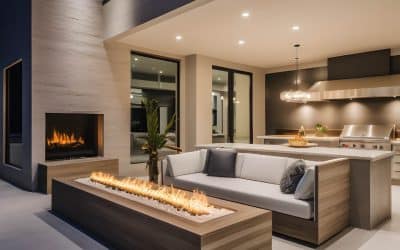 Elevate your patio with the right fireplace and a touch of interior design. With just a few pieces...
read more