Problems With Your Fireplace?
During the winter, your fireplace is the heart of your home. So much warmth, conversation, and family memories come from your fireplace. At Team Harding, we pride ourselves on being the fireplace experts. We know everything about fireplace installation, repair, and maintenance. Our team of expert technicians is ready to identify, diagnose, and repair your fireplace. We work efficiently and effectively on all types of fireplaces, whether or not the unit was purchased from our store.
Leave It to the Professionals
When your fireplace is showing signs of damage or breakdown, the best-case scenario is to have a team of professional and certified fireplace technicians on your side. Our technicians will clean, inspect, diagnose and repair your fireplace so it works as well as the day it was installed.
Do Not Attempt to Repair Your Fireplace Yourself
Even the best and most well-cared-for fireplaces can experience the occasional breakdown or damage due to wear and tear. If you've noticed issues with your system, do not attempt to repair it yourself. Trying to repair your fireplace without being certified can result in further damage to your unit, and most importantly, it's a risk to your health and safety. 
Book Fireplace Repair
To schedule a fireplace repair or inspection, call us at (613) 831-5056 or fill out the form below and one of our fireplace specialists will be in touch with you shortly.
"*" indicates required fields
Visit Our Fireplace & BBQ Showroom
Fireplace Troubleshooting Checklist
1. Do you have a remote or wall switch?
a. If you have a remote- you may need to replace the batteries in both the hand held and the receiver (located under the fireplace. It will either pull down, slide to the side, or you will need to pop off the screen to access)
b. If you have a wall switch you will need to schedule a technician
2. Make sure the unit is plugged in (located under the fireplace)
3. Do you see a pilot light? If so, is the main burner working?
a. Turn on the "Anti-Condensation Switch" (the silver toggle switch below the fireplace, aka cold climate switch, or continuous pilot switch). The silver toggle switch below the fireplace to the left of the gas valve switched between continuous pilot and intermittent pilot. Any homeowner can flip that switch at any time. It is both simple and safe.
4. When was the last time your unit was cleaned or serviced? We recommend cleaning the unit every year if it is not used often, and recommend every 2 years if it is used often.
Do you smell gas? Call Enbridge 1-866-763-5427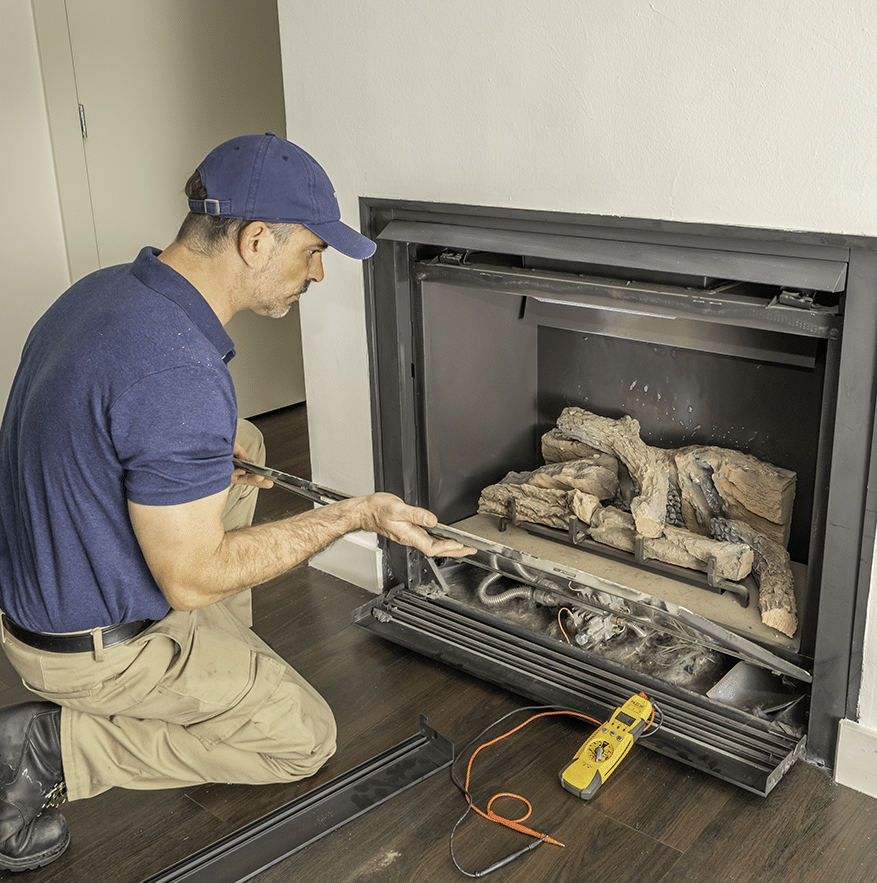 No, you can't remove the built-up white residue on your fireplace glass with Windex or any other regular household cleaning product. This common residue can only be removed with a special fireplace glass cleaner made specifically for the task.
In Ontario, all fireplaces should be inspected by a certified expert at least once a year.
There is no set cost for fireplace repair because every fireplace is different and every repair is unique. At the beginning of your repair appointment, once the issue has been diagnosed, our technicians will give you a quote that includes repair, labour, and parts.
While keeping your fireplace pilot light on during the summer is not completely necessary, choosing to do so will help reduce wear and tear on your fireplace's pilot assembly.
Gas Fireplace Safety Tips
While a gas fireplace can be a wonderful addition to your home, it must be treated with serious caution and respect. A gas fireplace is still a fireplace: it emits heat and must be cared for and treated appropriately. Here are a few of our experts' gas fireplace safety tips:
Keep children and pets away from the fireplace
Never leave your fireplace unattended during operation
Keep the area around your gas fireplace clear for at least a three-foot radius
For extra protection, add a small barrier or safety screen to your fireplace
If you smell gas, turn off your fireplace and call your natural gas distribution company immediately
Always read and adhere to manufacturer instructions on how to start up and safely use your fireplace
Although not wood-burning, gas fireplaces still emit a lot of heat which can be harmful when touched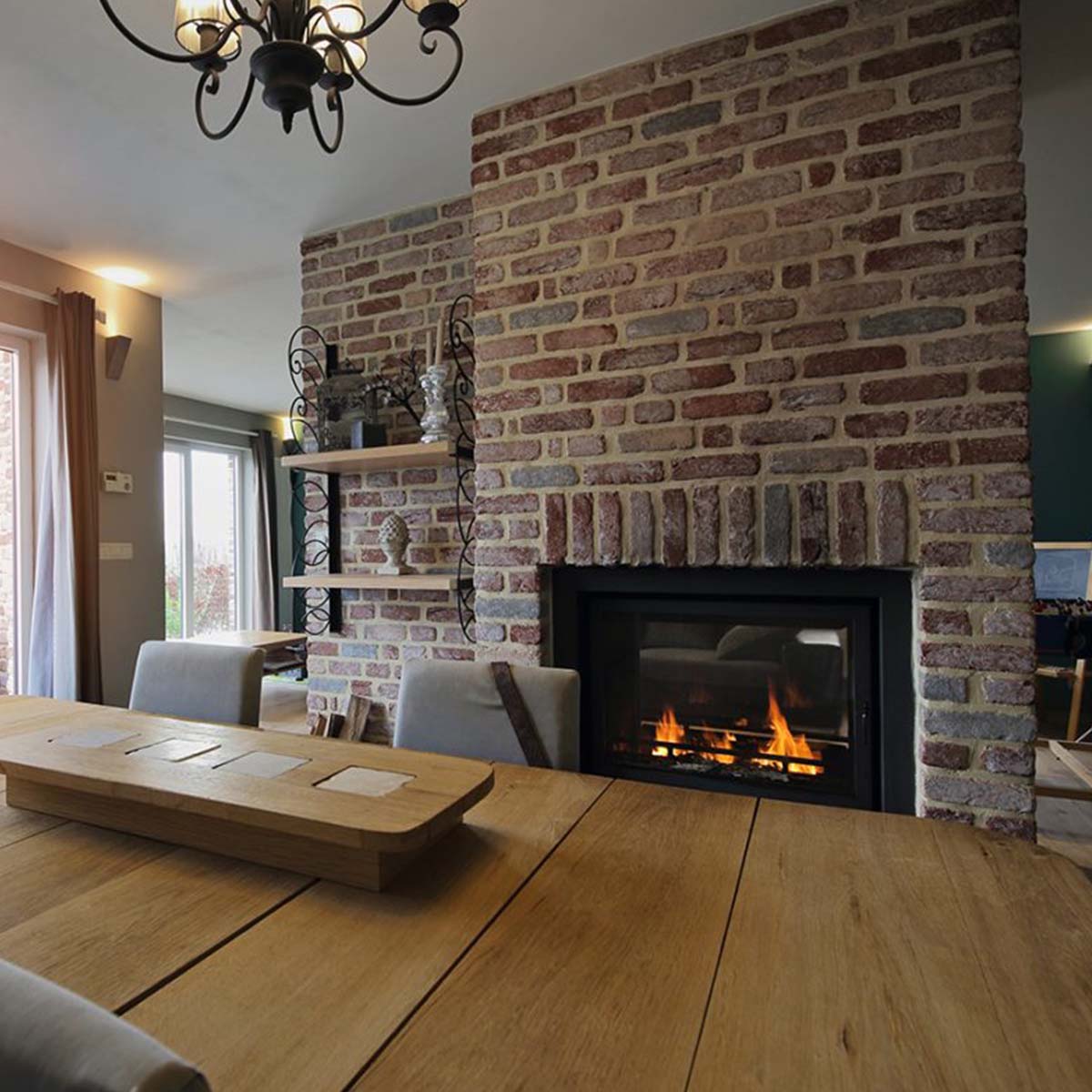 Gas Fireplace Troubleshooting
It's frustrating when you turn on your gas fireplace and it doesn't work correctly. When it comes to fireplace troubleshooting, it's always best to start with the easiest fixes as sometimes it's something as simple as the gas being turned off, a tripped breaker, or dead batteries.
Make Sure the Gas Is On
Even if you don't regularly turn the gas off, we always recommend homeowners check that it's on. There are a number of ways the gas could've been inadvertently turned off and not everyone thinks to check that it's in the correct position.
Check Breakers
If you're having problems with the blower, check the breaker and see if the fireplace one is tripped. While gas fireplaces don't need electricity to operate, the fan and blower do require power. When these parts of a fireplace stop working, many people don't remember to check the circuit breaker.
Check the Batteries
If you're using a remote to control the fireplace, it could be a problem with the remote—not the actual fireplace. Remote batteries need to be replaced from time-to-time, which could be a quick and easy fireplace troubleshooting solution.
If the above fixes don't solve the problem, you could have an issue with the burners, fan or pilot light. When it comes to fireplace troubleshooting inside the actual system, we recommend contacting a professional to prevent injury or further damaging the system.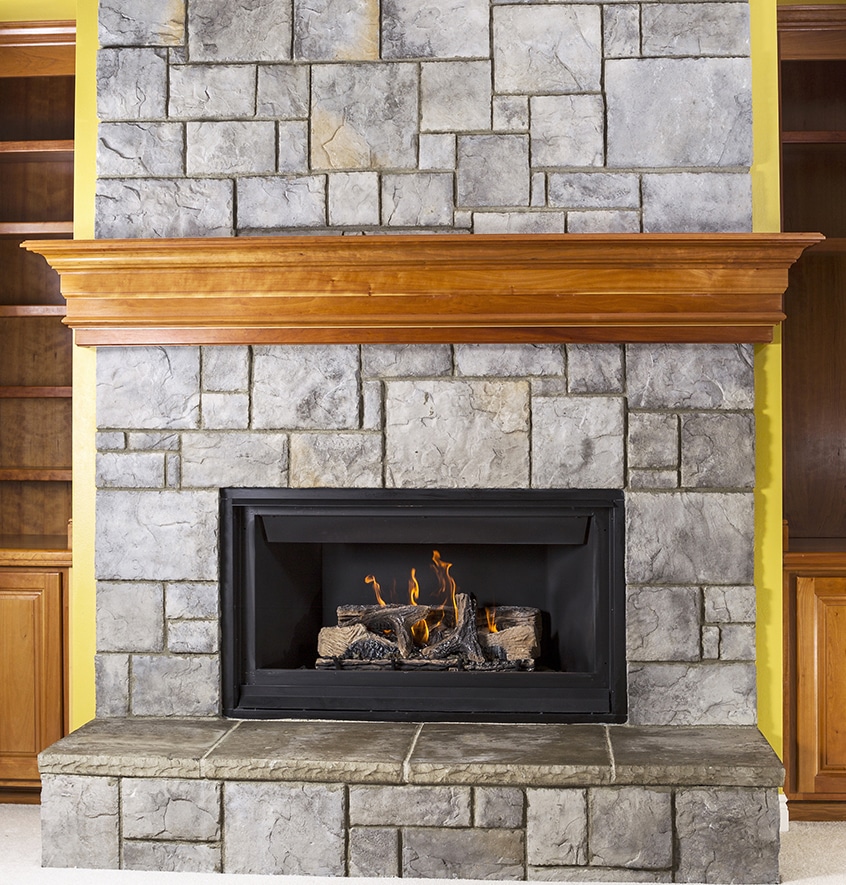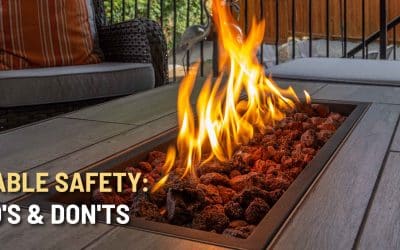 If you have a fire table or are purchasing one, make sure you know the do's and don'ts of having...
read more