Enjoy the Year-Round Comfort of a Heat Pump
Efficiently heat and cool your home or commercial property while saving you money. Take control of your environment and give your home the Daikin Advantage with advanced heat pump technology.
Home Comfort
Stay warm in winter and cool in summer. Maintain perfect humidity and get rid of stale air. It's your home, so take control of your environment with a Daikin ducted or ductless heat pump, delivering the perfect indoor climate year-round. You deserve to feel comfortable at home. For more than 90 years, Daikin has been innovating and inventing products that deliver maximum comfort and performance.
Efficiency
Oil and electric heating and cooling systems can hit your wallet hard and still leave you shivering or sweating. Heat pumps are extremely energy-efficient, moving heat instead of creating it. Many of our systems qualify for federal energy tax credits, and Daikin systems are often used for LEED-certified and Net Zero Energy projects. Our process is efficient too, so installing your Daikin heat pump is easy and hassle-free.
Savings
Traditional heating and cooling systems have to work hard to change the temperature of the air in your home, resulting in bills that drive homeowners to live uncomfortably for the sake of saving. Daikin heat pumps work smarter, letting you keep more of your own money while living better in your home. To make your heat pump even more affordable, you may be eligible for financing and/or rebates from NB Power, NS Power, and Efficiency NS.
Single Zone Heat Pumps
All Daikin ductless heat pumps consist of an indoor unit, which is either wall-mounted, floor-mounted or concealed, paired with a quiet and compact outdoor unit.
Daikin's single-room heat pumps are energy efficient and ideal for heating a small space. They are small and unobtrusive in your home. Imagine your small office or studio being toasty warm without the fuss of a furnace or the hassle of a ducted system at all. With an opening just three inches or smaller in diameter, a ductless mini-split heat pump is easy to install and maintain.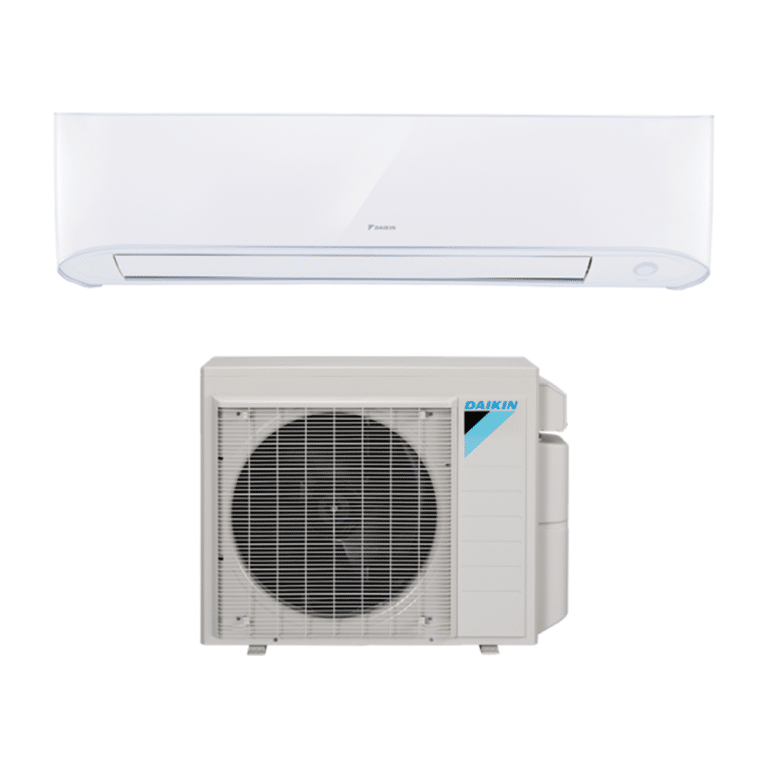 17 Series Wall Mount
Daikin's 17 Series Wall Mount Systems provide energy efficiency and comfort control with an affordable, cost-saving solution.
SEER Level: Up to 17
Price Range: $
Coverage: 250-1,600 sq. ft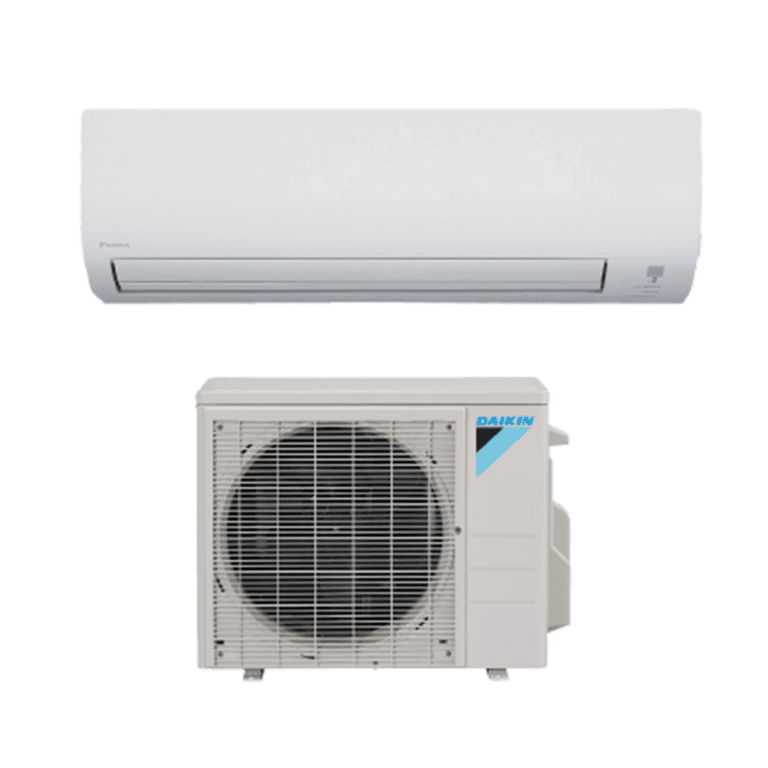 19 Series Wall Mount
Ideal solution for spaces with primary living areas, rooms with poor air flow, renovations, basements, attics, garages, and home add-ons.
SEER Level: Up to 19
Price Range: $$
Coverage: 250-1,600 sq. ft
ENERGY STAR® Partner: ✓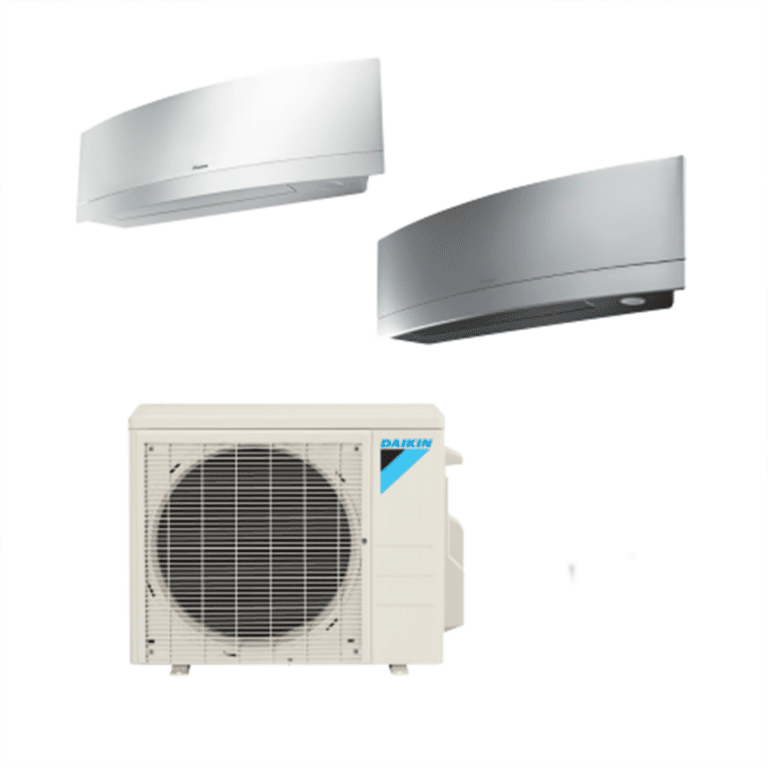 Daikin EMURA
Daikin EMURA was designed to perfectly balance technological leadership and the beauty of aerodynamics.
Price Range: $$
Coverage: 250-1,200 sq. ft
Multi Zone Heat Pumps
Homeowners fight over temperatures in their homes and have rooms that go unused for long periods. Now they can save energy and control temperatures independently in up to eight separate zones, with a single outdoor unit. With available wall-mounted, concealed slim-duct, ceiling cassette, and floor-mounted indoor options, Daikin Multi-Zone Systems offer multiple indoor unit styles to meet all home comfort needs.
Heat or cool multiple spaces independently with 1 outdoor unit
Great installation flexibility and a wide choice of styles.
Wide range of outdoor units to which up to 8 indoor units can be connected.
All indoor units can be individually controlled.
The discrete, robust outdoor unit can easily be mounted onto a roof or terrace, or simply to the outside wall.
It is possible to combine different types of indoor units.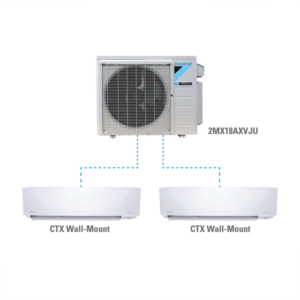 Daikin CIRRA 2-Zone
Daikin CIRRA Multi-Zone Systems are a simple way to provide heating and cooling support to two trouble spots in your home.
Price Range: $
Coverage: 2 Zones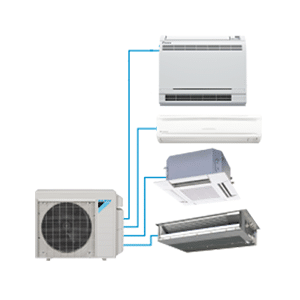 MXS Series Multi-Zone (2, 3, 4 or 5 zones)
Daikin's Multi-Split Systems are ideal for multi-room applications desiring individual room comfort in a space-saving design.
SEER Level: Up to 20.2
Price Range: $$
Coverage: 2-5 Zones
ENERGY STAR® Partner: ✓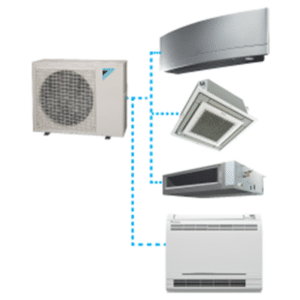 Daikin AURORA Cold Climate Multi-Zone (2, 3 and 4 zones)
Daikin's Multi-Zone Systems are ideal for multi-room applications desiring individual room comfort in a space-saving design.
SEER Level: Up to 21.7
Price Range: $$$
Coverage: 2-4 Zones
ENERGY STAR® Partner: ✓
Ducted Heat Pumps
Daikin Ducted Heat Pumps provide discreet air conditioned comfort. It can be installed in a new home or tailored to suit an existing one, and once installed, only the controller, the return air and discharge grilles are visible inside your home.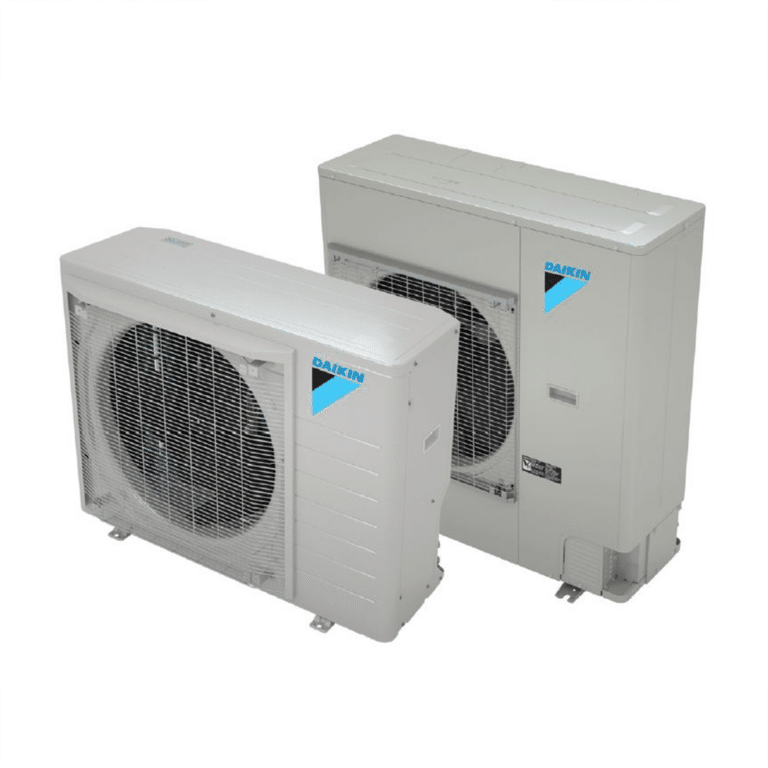 Daikin Fit
Daikin FIT system is designed to FIT comfort, space-saving, and efficiency requirements with ease.
SEER Level: Up to 18
Price Range: $$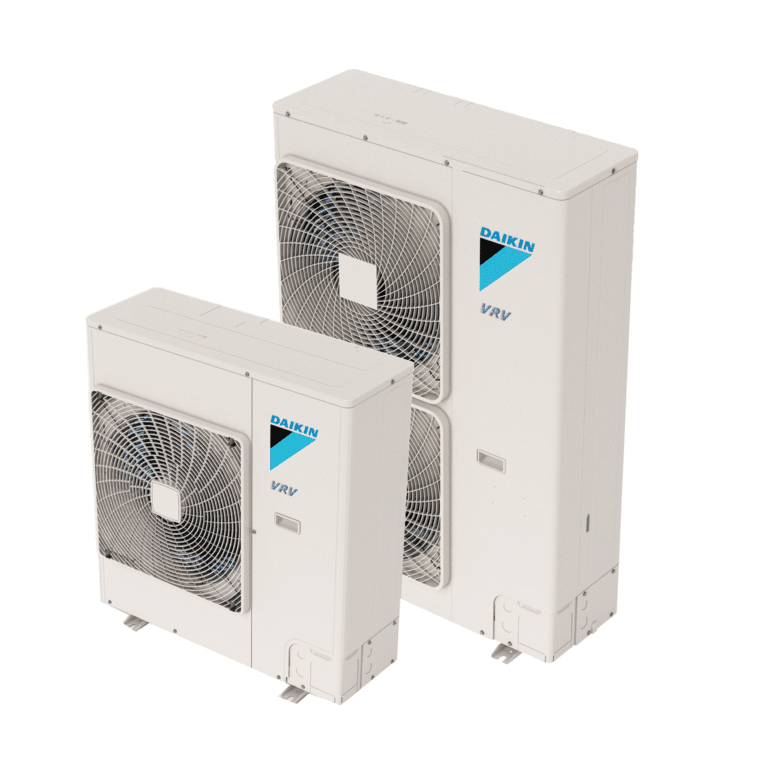 Daikin VRV Life
Daikin VRV LIFE systems bring inverter driven VRV technology to solve some of the age-old residential HVAC challenges.
SEER Level: Up to 18
Price Range: $$$$
Get a Free Quote on a New Heat Pump
Call us at (613) 831-2257 or fill out the form below and one of our home comfort advisors will follow up with you shortly.