Water Heater Installation
Ottawa's Most Trusted Water Heater Installation Provider Since 1994
If you're in the market to replace your current water heater, Team Harding is here to help you through the process. We'll get you the best water heater for your home and family's needs.
At Team Harding, we only carry high-quality equipment from tankless, conventional, power vents, and high-efficiency water heaters– electric and gas. We have the experience and industry expertise to make sure you get the best option for your home and your budget.
Get a Free No-Obligation Water Heater Quote
Contact Team Harding for a free quote on a new water heater!
Call us at (613) 831-2257 or book a free sales consultation below and one of our home comfort advisors will follow up with you to confirm your date.
"*" indicates required fields

How Long Does the Average Water Heater Last?
While every water heater is different, the average water heater lasts between 10-15 years. And there are things you can do to increase the lifespan of your water heater. Here are some tips to prolong the life of your water heater:
Call for repair as soon as you notice an issue
Schedule annual preventative maintenance
Keep the area around your water heater clear
Is It Time to Replace My Water Heater?
If you have an older or inefficient water heater, you may be wondering whether or not it's time for a replacement. If your water heater exhibits one or more of the following signs or characteristics, it may be time to get a new system:
Your water heater is leaking
Your water heater is older than 15 years
Your water heater is making strange noises
Your water heater has rust on/around the system
Your water heater isn't producing hot water at all
Your water heater runs out of hot water sooner than it used to
Boilers vs Water Heaters

A common misconception about HVAC systems is that boilers and water heaters are the same. While they both heat water, they serve very different purposes in the home. Here's what you need to know about water heaters versus boilers.
Water Heater
A water heater is a system that heats water for different purposes around the house. Hot water can be distributed through several different faucets for your washer, sinks, showers, and bathtubs. The water heated by a water heater is meant for practical use around the house.
Boiler
A traditional boiler heats water like a water heater, but the difference is that it heats water for a different use. While a water heater distributes hot water to different faucets and taps, a boiler heats water to keep a home warm. Hot water is sent through pipes in the walls to keep each room of the house warm and comfortable. As such, some homes have a boiler instead of a furnace.
Combi Boiler
A combi-boiler is the best of both worlds. A combi system heats water for both home comfort and for use from the taps. It is convenient to have one system for both needs. However, combi boilers are typically only used in small to medium-sized houses to ensure efficiency and comfort.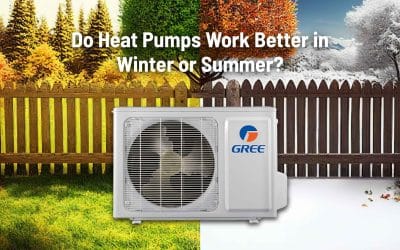 If you're wondering this question, then you already know that heat pumps are versatile systems...
read more