Why Choose Team Harding When Buying a Gas Fireplace in Ottawa
If you're looking at buying a new gas fireplace in Ottawa, look no further than Team Harding. Over the years, we've developed a reputation for being reliable, knowledgeable fireplace specialists. We sell, service, and install gas fireplaces in the Ottawa region.
After nearly 50 years in the industry, Team Harding has come to be a trusted dealer and installer of gas fireplaces. We carry a range of makes and models from the top manufacturers of fireplaces, stoves, and inserts. We also provide:
Safe & Professional Fireplace Installation
Licensed & Expert Technicians
Free Consultations & Estimates
Flexible Payment & Financing Options
Affordable Protection Plans
Benefits of a Gas Fireplace
Why choose a gas fireplace? There are multiple reasons to install a gas fireplace in your home. Compared to other types of fireplaces, gas fireplaces have many benefits.
They're easy to use.
Gas fireplaces are easy to use and don't require a lot of maintenance. With the flick of a switch, you can turn the unit on and off. There are no logs, no lighting, and no labour! This makes them a great choice for busy homeowners.
They're safe.
Gas fireplaces are designed with safety features such as flame sensors and shut-off valves that automatically turn off the gas if there's an issue with the fireplace or any of its components. There aren't any sparks or hot embers that could fall out.
They're economical and energy efficient.
Compared to traditional wood-burning fireplaces, gas fireplaces are very efficient and produce fewer emissions. They're a nice way to add some extra warmth to your home with minimal expense.
They're cozy and comfortable.
Add a fireplace to any home and you instantly make it more homey and comfortable. Since they're so safe and easy to use, a gas fireplace is arguably the best option to make your home cozier and comfier.
They add to your home's value.
You might not have known but a gas fireplace can increase the value of your home. Not only do fireplaces make homes more attractive to potential buyers, but many of them are also specifically looking for a house with a fireplace.
Book a Fireplace Consultation
Our consultant will perform an assessment of your space to ensure your fireplace is sized properly. We will advise you regarding options for cabinetry, mantle pieces, and tiles to create a beautiful space in your home.
"*" indicates required fields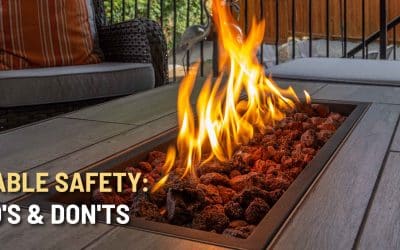 If you have a fire table or are purchasing one, make sure you know the do's and don'ts of having...
read more