Ottawa's Most Trusted AC Service Since 1994
AC Service | Ottawa summers can be unbearably hot. We need to be able to rely on our air conditioners to keep us cool and comfortable. But just owning an air conditioner isn't a guarantee that your home will stay cool all summer. Unfortunately, breakdowns happen and repairs are needed.
To ensure your comfort and safety throughout the year, it's crucial that you schedule routine air conditioner maintenance. Whenever there's an issue, always have it serviced and repaired as soon as possible.
Emergency AC Repair
AC and HVAC systems don't just break down between 9 AM and 5 PM, Monday to Friday. That's why we offer HVAC services until 8 PM. And when you phone us in the case of an AC emergency, a real person will answer your call.
AC Maintenance
AC maintenance is a necessary part of keeping your air conditioner healthy, efficient, and functional. It's recommended that your air conditioner is serviced once a year. Regular preventive maintenance can elongate the life of your air conditioner, and it'll save you time and money.
For emergency AC service & repair please call (613) 831-2257
To schedule a regular ac service appointment, fill out the form below and one of our home comfort advisors will be in touch with you shortly.
AC Troubleshooting Checklist
Inside the Home
Make sure the thermostat is turned to cool.
Check to see if you need new batteries in the thermostat. If batteries are older than 1 year old, they should be replaced.
Is the furnace switch turned on? (It looks like a light switch, and is located in the basement usually higher on the wall near the basement stairs or door to the furnace room).
Check the furnace filter- if your filter is more than one month old you should replace and/or clean it.
Is the furnace fan running with the HRV switched off and the thermostat fan set to 'auto'? This tells us if the thermostat is calling for A/C if the fan is running.
Is the breaker in the breaker panel turned on? Normally it is a double breaker marked A/C.
Is there water leaking from the furnace? If ye, it is probably frozen- turn off for 24 hours.
Is there ice on the pipes or ductwork in the basement? If so, the unit must be thawed 24-48 hours before booking a service call. Readings will not be right if the unit is frozen and we will not be able to properly diagnose.
Is your equipment an Enercare rental? You will have to contact the rental company for service.
Outside the Home
Is the A/C cover removed from the unit?
Is the disconnect box turned on? It is a grey box with a plug/handle that is on the outside wall beside the unit.
Is there ice on the outside of the unit or pipes? If so, the unit must be thawed 24-48 hours before booking. Readings will not be right if the unit is frozen and we will not be able to properly diagnose.
Are the fins on the unit dirty or clogged? If so, disconnect the high voltage power for the A/C in the panel, then rinse with the water hose (do not use a pressure washer).
It must be over 18C outside so we can diagnose your unit properly.
There are several reasons why you need to schedule annual preventative maintenance for your AC. The top three reasons are:
Increased Efficiency
A well-maintained air conditioner is an efficient AC. By scheduling annual preventative maintenance AC service, you're ensuring that your air conditioner runs as efficiently as possible. This means you'll have lower energy bills each month.
Improved Reliability
When you schedule annual preventative maintenance for your air conditioner, you can be confident that you won't have to worry about a sudden breakdown or disrepair that could cost you more money in emergency repairs. When you keep your air conditioner well maintained, you avoid the possibility of future breakdowns.
Increased Home Comfort 
A well-maintained air conditioner makes a difference in home comfort and air quality. Annual preventative maintenance means expert technicians clean your AC thoroughly so the air you breathe in your home is as fresh as possible. Plus, a well-maintained AC provides more even and more comfortable cooling.
Signs You Need AC Repair
Nobody wants to see that their air conditioner is in disrepair or on the brink of a breakdown. However, it's important to keep an eye out for early signs that your AC needs repairs. The sooner you get it fixed, the easier and cheaper it'll be.
Signs that you may need AC repair include:
Strange noises or smells
Uneven cooling
Increase in energy costs and consumption
Warm air coming from register
No air coming from register
Refrigerant leaks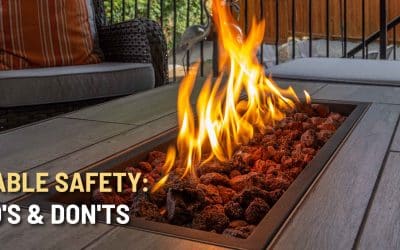 If you have a fire table or are purchasing one, make sure you know the do's and don'ts of having...
read more